Rol-Lift Pallet Jack
Move pallet load quickly and easily with a manual pallet jack by Rol-Lift. High capacity
5,500# units will hold up to the harshest environments. Great for heavy or light use.
Our Most Dependable and Economical Pallet Jack Ever!
Rol-Lift Pallet Jack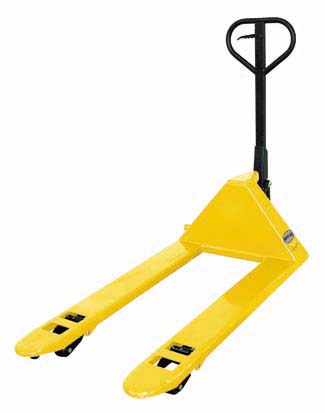 Features
Standard features include powder coated paint finish, solid steel formed forks,
one piece load roller assembly and a ergonomic cushioned handle.

5500 lb. capacity
Powder coated paint finish
Solid steel formed forks and chassis with reinforced frame and gusset
One piece load roller hanger assembly
All pivot points come with sealed bearings
9 strokes to full raised height
Lowered Height 2 7/8"
Raised Height 7 5/8"
Available in 27" wide x 48" long forks
Price Each.........................$ 299.00/ea
quantities of 2 or more...$ 285.00/ea
In stock for quickest shipment
Copyright Equipment and Supply Central 2012