RubberMaid Tilt Trucks
Rubbermaid Tilt Trucks are ideal for commercial and industrial use. Used in Commercial Maintenance Applications as well as on Industrial Construction Sites. These units are favorites of the Construction Industry
RubberMaid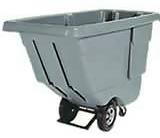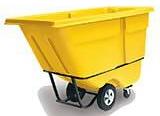 Sturdy, plastic construction weighs much less than metal.
Easy to handle and maneuver through commercial doorways and onto elevators.
Constant force design allows for controlled dumping by one person.
Inset wheels on 1/2 cu. yd. and 1 cu. yd. models protect walls, fixtures and patrons.
Smooth surface is easy to clean and resists pitting and corroding.
X-Colors (Blue, Yellow and Red) available on selected SKUs.
Optional domed lids available.
No.
Description
Dimensions
Capacity
Size
Price
1/2 cubic yd
1304
Utility Duty
56 3/4" l x 28" w x 38 5/8" h

300 lb

1/2 cu yd

583.22
1305
Standard Duty
60 1/2" l x 28" w x 38 5/8" h

750 lb

1/2 cu yd

850.67
1306
Heavy Duty
60 1/2" l x 28" w x 38 5/8" h

1200 lb

1/2 cu yd

992.00
1307
Lid for 1304, 1305, 1305-06, 1306
56 1/2" l x 28 1/2" w x 9" h

N/A
N/A
174.67
1 cubic yd
1314
Utility Duty
72 1/4" l x 33 1/2" w x 43 3/4" h

750 lb

1 cu yd

788.15
1315
Standard Duty
72 1/4" l x 33 1/2" w x 43 3/4" h

1000 lb

1 cu yd

1,177.34
1316
Heavy Duty
72 1/4" l x 33 1/2" w x 43 3/4" h

2000 lb

1 cu yd

1,261.34
1317
Lids for 1314,1315,1316,
1316-1341 tilt trucks
69 1/2" l x 34" w x 8 1/2" h

N/A
N/A
237.34
1 1/2 cubic yd
1025
Standard Duty
80 1/2" l x 43" w x 49 1/2" h

1000 lb

1 1/2 cu yd

2,986.67
1026
Heavy Duty
80 1/2" l x 43" w x 49 1/2" h

2000 lb

1 1/2 cu yd

3,318.67
2 cubic yd
1035
Standard Duty
81 1/4" l x 46 3/4" w x 50" h

1800 lb

2 cu yd

2,708.00
1036
Heavy Duty
81 1/4" l x 46 3/4" w x 50" h

2300 lb

2 cu yd

3,809.34
2 1/2 cubic yd
1045
Standard Duty
81 1/2" l x 55 1/2" w x 50" h

1800 lb

2 1/2 cu yd

3,898.67
1046
Heavy Duty
81 1/2" l x 55 1/2" w x 50" h

2300 lb

2 1/2 cu yd

4,154.67
Back to Home Page

Copyright Equipment and Supply 2010